Affordability with Style and Comfort
SEE SPECIAL OFFERS TAB FOR CURRENT OFFERS.
IF WE ARE FULLY BOOKED ONLINE PLEASE CONTACT THE OFFICE TO CHECK AVAILABILITY AS WE DO
HAVE A FEW CARAVANS ON FLEET WHICH DO NOT APPEAR ONLINE.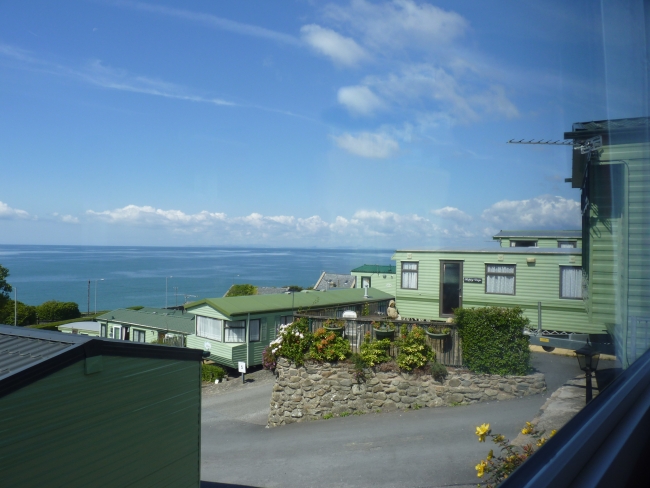 Caravans are terraced overlooking the most magnificant Coastal Views of Cardigan Bay; a picture that will stay in your mind long after your holiday has ended.
Our caravans consist of mainly high quality accommodation, with several caravans new for this season. We currently rent both 4 and 6 berth caravans.
ALL our Caravans have spectacular sea and mountain views that can be enjoyed from inside your caravan or outside on your  patio. There is space for 1 car to be parked alongside most caravans.
All caravans are fully equipped, with enough crockery, cutlery, pots and pans etc for your stay.  Each caravan is provided with 1 double duvet and 2 pillows in main bedroom, 2 single duvets and 2 pillows in twin bedroom  blankets and 2 pillows are provided for the pull out bed where provided.
*Please note Bedding for the double and single beds is provided…. You will need to bring with you towels and tea towels.  Check in usually from 4pm unless otherwise arranged…. (if you arrive earlier and caravan is available/ready you will be given early access where possible)
(6 berth caravans only – you will need to bring bed linen with you or hire an additional linen set for the pull out bed if you wish to use this, – blankets, not duvet provided for this bed).
Caravan Ranges Available:
Most of our caravans have 2 bedrooms (1 double,1 twin – although we do have a couple of 3 bedroom caravans which are charged at an additional £20 per night).  Most have an open out double bed in the lounge/dining area. They are fully equipped with kitchens including microwave, toaster, kettle, fridge/fridge-freezer, flatscreen TV, and much more.
Lodges (some with hot tub), Platinum, Gold & Silver Caravans
Lodges, Platinum , Gold and Silver caravans boast double glazing and central heating for added comfort.
LODGES
TWIN UNITS, Giving more space than a traditional caravan, a bit more like a cottage/bungalow. Lodge C19 has a hot tub

New for August 2021 Holiday homes E11 and E12 are smaller lodges (26′ x16′) they have a double bedroom and a bunk room, sleep maximum of 4 persons. E11 is pet friendly, E12 is no pets

Platinum
Our top range caravans

(to secure this year's model a  small fee of £20 per booking can be paid),

Gold
Caravans – although to similar quality of platinum vans – are slightly older than platinum.  Gold caravans are also our newer 10′ wide caravans, please state/ask if you have a preference.  Well behaved pets allowed in some Gold vans by prior arrangment.

Silver
Caravans – are our slightly older range (most with central heating and double glazing,mostly age 6-10 years old), Well behaved pets allowed in most by prior arrangement

.  

Bronze Caravans – 
Our Bronze range vans are generally older caravans we have on site (usually 10 years +).  Some have central heating, others have panel heating to bedrooms and fire to lounge.  ALL ALLOW WELL BEHAVED PETS

SERVICE Caravans – 
Our Service range vans are older caravans we have on site (usually 12 years +).  Most have panel heating to bedrooms and fire to lounge.  ALL ALLOW WELL BEHAVED PETS
PLEASE NOTE; Dogs must NOT be left unattended in Caravans.
Please rate us/view our ratings on trip advisor: www.tripadvisor.co.uk Hendre Coed Isaf Caravan Park, Llanaber, Barmouth
Please note out of peak season (peak seaon = school Holidays) not all facilities are open every day e.g. bar/restaurant.  Please ask.  If you have a voucher to use or if you have any particular request please note it at time of booking.  Swimming pool is open July/August only, opening times are limited to our office hours, please ask if unsure.  Hendre Coed reserve the right to change/amend/refuse bookings at any time.  If you require a particular caravan please state 'do not move' at time of booking, as we may from time to time have to reallocate caravans (same or higher grade will be provided)
Hendre Coed Isaf Holiday Park
Llanaber
Barmouth
Gwynedd
LL42 1AJ
Or phone 01341 280597 to book (most major cards accepted)
A deposit of £50 per unit per week is required (non refundable)
Balance due 4 weeks prior to your holiday if paying by cheque, 2 weeks if by card/cash (although some special offers require payment in full at the time of booking).  Once balance is paid we cannot refund, although it may be possible to change your holiday dates (admin fee applies)…. WE THEREFORE RECOMMEND THAT YOU TAKE OUT APPROPRIATE TRAVEL INSURANCE.
VAT included at current rate
Please make cheques/P.O. payable to: Hendre Coed Ltd
VAT REG NO 310 206 724
Details correct at time of print.  We reserve the right to alter or amend without notice
For the purposes of clarifying, a £50 deposit is taken upon booking, this £50 forms part of the cost of the holiday and is not a refundable bond.
ie. once booked, deposit is non-refundable.
ALL OUR CARAVANS ENJOY SEA VIEWS.
Senior Citizens Rates
£30 discount per week (Over 60's, excludes Bank Holidays and 28 July to 1 September). Maximum of 4 persons per caravan to qualify. Please mark top of booking form 'OAP Special'.
Dogs
£25 per dog, per stay. Pet owners are requested to provide a blanket for their pet(s) to lie on, they MUST NOT use the seating, or be left in the caravan on their own. Maximum 2 dogs per caravan. It is a requirement that dogs are kept on their leads at all times and that all dog mess is cleaned up. ALL ANIMAL HAIR MUST BE REMOVED BEFORE LEAVING.
*Cot side available at a chage of £15 per week.
*Safe hire available in some units at a charge of £10 per week.
DVD player hire £10 per stay
Linen hire for pull out bed £10
Facilities on Site
There are NO EXTRA CHARGES for entry to any of our on site facilities (However a charge applies to Wi-Fi and Laundry Facilities).
RESTAURANT & BAR
For a night out, why not try our restaurant/bar. It is a favourite meeting place for friends, old and new; with its warm atmosphere, stone walls, beamed ceilings and inglenook fireplace. You can also enjoy a meal in our ever popular modern Restaurant and have a drink without the worry of driving home.
Bar meals and children's meals are also available.
If it's been a long day, you may want to relax in the comfort of your caravan and use our takeaway service.
Children's Play area
We have a children's outside 'pirate' play area.
Swimming Pool
A full size outdoor swimming pool – open during July and August.
Laundrette
We have a fully equipped laundrette on site with a washer, dryer. Iron and ironing board available from reception.