Owning your own holiday home at Hendre Coed Isaf
Where better to make dreams come true, your own holiday home right by the sea…… Join our happy customers and purchase a caravan or a lodge on our family owned & run park here at Hendre Coed and you are guaranteed a warm welcome and amazing views of Cardigan Bay. Witness some of the most fantastic sunsets from your very own caravan/lodge or patio area, or watch the sun go down whilst enjoying a cold beer or a glass of wine on our great beer garden….
You don't just get a caravan/lodge, there's so much more at Hendre Coed… ALL CARAVANS HAVE STUNNING SEA VIEWS. Most have great patio area and parking space. Amenities include our popular licenced restaurant – The Bay, serving quality, freshly prepared local produce as well as a variety of popular dishes, outdoor swimming pool, childrens play area, games room, laundrette and more.
Please contact us if you wish to be added to our waiting list. Below are pictures of caravans and lodges on park, all of which have either been sold or are now our hire fleet caravans.
When we sell caravans most stock lodges and caravans are sold fully equipped i.e. ready to go – include crockery, pots & pans, television, garden furniture and much more! Scroll down page for pictures
Pre-loved Caravans & Lodges
Sorry we now have no pre owned caravans available please contact us if you wish to go on our waiting list.
.
.
.
.
.
.
..
.
PRIVATELY OWNED CARAVANS FOR SALE (pre-loved)
,
.
Willerby Shrewsbury Outlook 35′ x 12′ (2 bedrooms, ch & dg) Excellent condition.  Great sea views from inside and outside.  large patio area
REDUCED TO £37,000 (site fees not included) SOLD
. .
Willerby Mistral 28'x 10′ (2 bedrooms, panel heaters) Great sea views from inside and outside.  private patio area £29,995 ono (includes 2022 site rent)
.
..
D1a Willerby Avonmore (2 bedrooms) amazing sea views £47,500 ono (includes 2022 site rent)
Continued…..NEW Caravans & Lodges
..
Sorry, there are currently no new caravans or lodges for sale. Please contact us if you wish to be added to our waiting list.
.
.
..
.
.
.
..
.
---
SITE FEES/Running costs
2022 Site rent from £4,000 (£3,555 +VAT)*
Rates (April 2021) £535
Gas & electric – metered, invoiced annually in November
Insurance – it's a condition of your occupation licence that holiday homes have adequate insurance cover (please ask us for a quote/details).
Caravan Season: 1 March – 10 January
*quoted site rent includes a discount of £200 for 'early payment' other incentives to pay 'early' may apply, please ask
Caravans – closed period; you can visit your caravan during the daytime, but are not permitted to stay overnight between 10 January & 1 March of any given year.
Lodges – we have a 12 month HOLIDAY licence for lodges
Caravan & Lodge owners must provide us with a permanent UK address as we are not a residential park (i.e. you cannot live here on a permanent basis)
---
Hendre Coed Limited is an appointed representative of Arthur J. Gallagher Insurance Brokers Limited which is authorised and regulated by the Financial Conduct Authority. Registered Office: Spectrum Building 7th Floor, 55 Blythswood Street, Glasgow, G2 7AT. Registered in Scotland. Company Number: SC108909.
VAT at current rate
Available Pitches (for new caravans)
Sorry we don't currently have any pitches available. Where pitches are available new caravans can be purchased from Salop Caravans or Forest Lodges….. however please contact the office before purchasing your caravan to ensure your desired pitch is available and the caravan you have selected is suitable/acceptable for that pitch.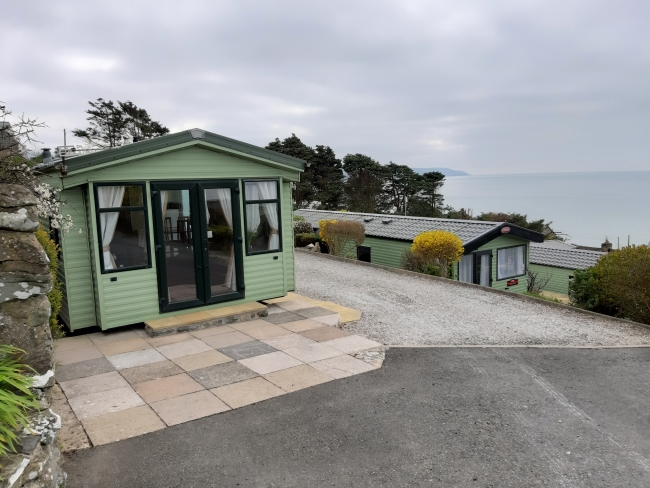 Plots
Sorry we do not currently have any plots available, however, plots may be available at the end of the 2021 season. Please ask if you wish to be added to our waiting list.
All with fantastic sea views, from caravan & patio
Siting Fees currently from £9,000 depending on pitch size. Siting includes transport to the park, crane, steps, patio, railings (where necessary), gas and electric connections.
Where pitches are available; Please contact the office prior to committing to purchasing a new caravan from a dealership.
Note; Twin units will incur an additional fee for assembly ('joining together'), please ask.
*where only a £1000 deposit is given this is valid for 30 days.
Why not "try before you buy"… simply book a holiday with us (park owned rental caravans) and pay for your holiday as normal. If you buy a caravan within 30 days of the end of your holiday we will deduct the cost of your holiday off the price of the caravan… simply tell us you wish to claim your 'try before you buy holiday discount' at time of purchase
Details correct at time of publication. Hendre Coed reserves the right to alter/amend without notice.
CH – Central Heating
DG – double glazing
CL – Centre Lounge
MI – Mirror Image
PH – panel heating
2019 Site rents inclusive of VAT
Lower site rent £3,750
Middle site rent £4,000
Premium site rent £4,400
Lodge rent 'A' £5,750
Lodge rent 'B' £6,100
Photo's
Hire Fleet
A8 – Carnaby Oakdale 38′ x 12′ (3 bedrooms)
A10 – Willerby Salisbury 35′ x 10′ (2 bedrooms).sold
C18 – Willerby Rio Gold 35′ x 12′ (3 bedrooms) Hire fleet.
C9 – Swift Burgundy 28′ x 12′ (2 bedrooms). sold
.
New caravans & lodges, prices include many contents.
B14 Carnaby Oakdale CL (3 bedrooms) Hire fleet
Willerby Avonmore 35′ x 12′ sold
Hire fleet Lodges
C19 – Willerby Clearwater Lodge 36′ x 20′ (2 bedrooms)
New Lodges (twin units)
Atlas Lilac Lodge (2 bedrooms) sold
PLEASE NOTE; some of the above pictures are generic and may be of a different size caravan. They may not have the same outlook. ALL OUR CARAVANS HAVE GREAT SEA VIEWS, which may not be apparent from the photographs/pictures.
If you cannot see a caravan which suits your requirements please contact us to discuss what you are looking for; we have a few more on our hire fleet, and may be able to make one of these caravans or pitches available for you.
Hendre Coed reserves the right to change, alter or amend details/prices at any time without notice.